A Message From Our Founder - Andy Gadoury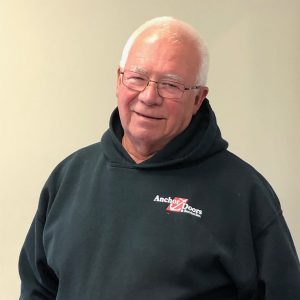 Ambition, drive, and attention to detail – I wasn't always where I am today.   I started out working for two different garage door companies in the city when I was a teenager.  With a background in carpentry and a love for working with my hands, I felt this was something I could do as a career.   I eventually started a new company with a partner and after 25 years and a well-established company in the city, I decided to retire.


With time on my hands and not much to do, I was quickly swept up with requests that filled my time. Building this or that for other people may seem like a lot of work for others but for me, I thrived on it.  Deciding that it wasn't time to retire yet, I embarked on another adventure …… Anchor Doors & Service Inc, this time as sole ownership.


Where did the name come from you ask?  Several years ago when thinking of names for your company you had to consider placement in the Yellow Pages phone book.  Inspired by something that would be solid, secure you in place, and long-lasting, I thought of an anchor… it started with the letter "A" and as a result, would place us in a prime position.


With a vision, experience and a renewed ambition to understand the needs of our customers, Anchor Doors and Service opened in 2000 and quickly outgrew the original shared property on Tecumseh Road.  Searching for a place with more square footage, and easy access, we relocated to our current location on Sylvestre Drive in Tecumseh.  We now have the largest showroom in the county with over 50 doors on display for our customers to experience the full lines of our residential and commercial products.  As word of mouth from our customers spread saying it's worth the drive to come and see our showroom, we felt the need to expand to Chatham was evident. 


In 2013 I decided to rent a shared lot in Chatham on Richmond Street and set up a storefront with a mix of residential, and commercial garage doors in our showroom.  Five years later, word of mouth had traveled and traffic increased creating a need for our own location with high visibility.  In 2018, a new state art showroom opened up at 607 Bloomfield Rd.


In order to meet the growing demands in accessibility, we decided to expand one more time with the addition of a Barrier-Free Door Division in our Windsor Location. 


I am always attentive to our customers' needs and am confident that my staff is there to assist you with all of your sales and service inquiries.
Andy Gadoury
President, Anchor Doors & Service
For over 20 years, Windsor & Essex County, Chatham & Kent County has trusted Anchor Doors & Service for top quality garage door installation, replacement, and repairs from our industry professionals. Whether you have a malfunctioning door or operator, are remodeling and want to upgrade your garage door, or need a brand new installation for your recently-built new home, we offer top quality products and the best workmanship around. Discover why we are quickly becoming the most trusted resource for Residential and Commercial Garage Doors, Handicap Operators, Dock Levelers, Shelters, Seals and Dock Equipment.  
If you don't see your location listed below, please feel free to call our office and inquire about your particular service area. We are always available to answer any questions you may have, even after regular business hours!
Fully Trained And Certified
Same Day Service Available
Customer Satisfaction Guarantee
I cannot say enough good things about Anchor Doors. They were quick, courteous, and did a wonderful job assessing my issue and then replacing the weather stripping on my 2 garage doors. Mike was extremely punctual, knowledgeable, and professional. I would not hesitate to use Anchor again and will be recommending them to family and friends in the future.
Great people to deal with. I went to a couple other garage door places but Anchor doors went above & beyond in helping us & answering all our questions. Nice showroom with many options. Love our new garage door!
Recently bought a new house that came with old functioning equipment and needed to source a non-available part. They helped put something together for me, just to help. I will most certainly recommend them. Cheers!
I got new garage door from anchor doors last week. Customer service is excellent. And quality of work is great.
Great door..excellent installer..did a perfect job installing the door..good service..friendly helpful sales staff.