Carriage House Garage Doors With Overlay
CARRIAGE HOUSE GARAGE DOORS WITH OVERLAY
Colonial or Victorian Garage Door Styles by Richards-Wilcox and Clopay
Carriage House Garage Doors with Overlay
Create The Authentic Country Charm For Your Home
Whether you are a builder, new homeowner, or an existing homeowner looking to freshen up the look of your home, Anchor Doors has made it possible to do something quite stunning. We offer a series of custom handcrafted garage doors that rise above the standard garage door look to create a balance between exceptional beauty and enduring quality.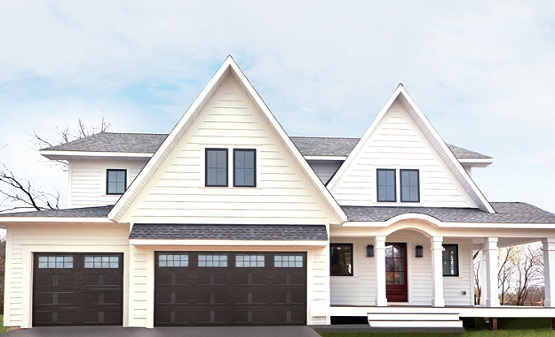 Richards-Wilcox Carriage House Garage Doors With Overlay
Landmark Briarcrest Series
Featuring Extra-Large Windows. The Perfect Balance Between Beauty And Quality.
Richard Wilcox Carriage House Garage Doors with Overlay
Craftsmanship creates Country charm by adding Overlays to create these Composite Carriage House Garage Doors with Larger Windows
Overview
Colours
Briarcrest colours
White
Almond
Desert Tan
Standstone
Bronze
Brown Tan
Café*
Slate Grey*
Black
Echo Ridge L138ER & L200ERX Colours
White
Almond
Desert Tan
Standstone
Bronze
Brown Tan
Café*
Slate Grey*
Black
Board Colours
White
Standstone
Windows
Glass Options
Clear
Sherwood
Prairie
Waterton
Cascade
Stockton
Cathedral
Sunburst-4
Sunray-(4-panel)
Stockton-4
Stockton-6
Prairie
Briarcrest Windows
All Briarcrest windows are available in Single Arched, Square and Two Piece Arched styles.
Wrought Iron
4-Over-4 Pane
4 Pane
Clear
Brochures
Warranty
Carriage House Doors with Overlay
Looks Like Wood But Crafted with Layers of Insulation and a Composite Overlay.
These carriage house doors offer the perfect blend of beauty and practicality. They look like wood but are actually crafted of multiple layers of durable, low-maintenance steel and insulation topped with a woodgrain textured composite overlay.
For over 20 years, Windsor & Essex County, Chatham & Kent County has trusted Anchor Doors & Service for top quality garage door installation, replacement, and repairs from our industry professionals. Whether you have a malfunctioning door or operator, are remodeling and want to upgrade your garage door, or need a brand new installation for your recently-built new home, we offer top quality products and the best workmanship around. Discover why we are quickly becoming the most trusted resource for Residential and Commercial Garage Doors, Handicap Operators, Dock Levelers, Shelters, Seals and Dock Equipment.  

If you don't see your location listed below, please feel free to call our office and inquire about your particular service area. We are always available to answer any questions you may have, even after regular business hours!
Fully Trained And Certified
Same Day Service Available
Customer Satisfaction Guarantee
I cannot say enough good things about Anchor Doors. They were quick, courteous, and did a wonderful job assessing my issue and then replacing the weather stripping on my 2 garage doors. Mike was extremely punctual, knowledgeable, and professional. I would not hesitate to use Anchor again and will be recommending them to family and friends in the future.
Great people to deal with. I went to a couple other garage door places but Anchor doors went above & beyond in helping us & answering all our questions. Nice showroom with many options. Love our new garage door!
Recently bought a new house that came with old functioning equipment and needed to source a non-available part. They helped put something together for me, just to help. I will most certainly recommend them. Cheers!
I got new garage door from anchor doors last week. Customer service is excellent. And quality of work is great.
Great door..excellent installer..did a perfect job installing the door..good service..friendly helpful sales staff.