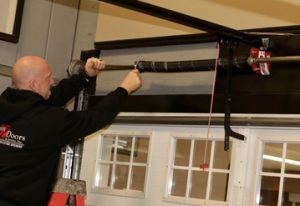 You may have heard a loud bang from your garage or simply go out to discover that the garage door won't open more than a crack. Chances are you have a broken spring.
Why did this happen? Did I do something that caused this? Is there something I could have done to prevent it?
First, let's look at how a torsion spring works.
Just like any spring, torsion springs store a mechanical force of energy that tightens them. The energy is stored by rotating or twisting the spring. Torsion springs are mounted horizontally above the garage door and attached to cables. When the door is closed, the cables that are attached to the bottom corners forcibly result in the springs to wind and energize the system. This stored energy is transferred to the door when the springs unwind causing the door to lift up and open easily.
Read More